ETC Eos Programming Wing
A portable work surface that feels like a console
Need to work on the road or from a remote station? This USB-connectable wing gives you the freedom of mobile programming without sacrificing control features.
The Eos Programming Wing provides a portable, backlit keypad and encoders to connect to your processors, remote interfaces, and ETCnomad systems.  Programming wings are VESA-mountable for temporary or permanent installation backstage, in a rack, or on a tech table. Simply connect your wing to a compatible device to create a remote programming station anywhere in your venue. With the familiar Eos Family programming layout, you can get to work with your Wing immediately – no need to hunt for keys.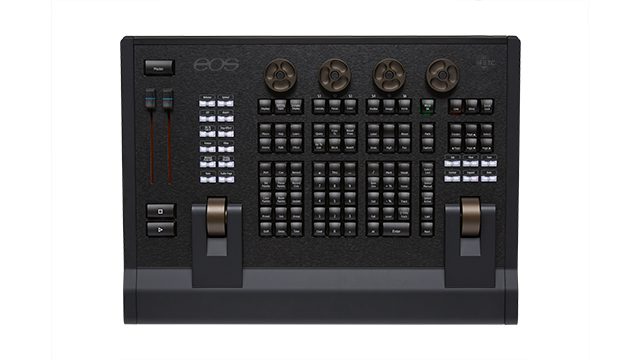 Eos Programming Wing
Full, backlit Eos Family programming keypad
Main playback controls, level and rate wheels
4x standard rotary parameter encoders
4x DMX512-A/RDM outputs, Remote Trigger and Worklight connection
Compatible with ETCnomad, ETC Puck, Eos Apex Processor, Ion Xe RPU, Eos RPUs, Eos Remote Interface, RVI & RVI3
Ships with required external power supply
https://www.etcconnect.com/WorkArea/DownloadAsset.aspx?id=10737482877
The best part, its affordable
Team the Eos Programming Wing with a Mac or PC computer, download the free ETC Nomad software, plug in the ETC Nomad key, and you have an affordable lighting control solution, at a fraction of the cost of a console, without serious sacrifice*.
Best part, swap computers every few years, and your lighting control never goes out of date because of an aging processor.
At less than half the cost of an Ion Xe, and considerably less that an Element 2 (which offers no encoders for programming moving lights), the Eos Programming Wing is a win-win-win.
*ETC Nomad currently maxes out at 6144 output channels, so if you need more than 12 universes of DMX, stick with the Ion Xe or Xe 20 console.